Village Works helps customers succeed
Village Works offers flexible office and meeting room solutions to businesses of all sizes in
9 offices around Finland. Controlled growth requires the right kind of digital tools and lean processes. That is why Village Works chose Sowellus as their partner for key management.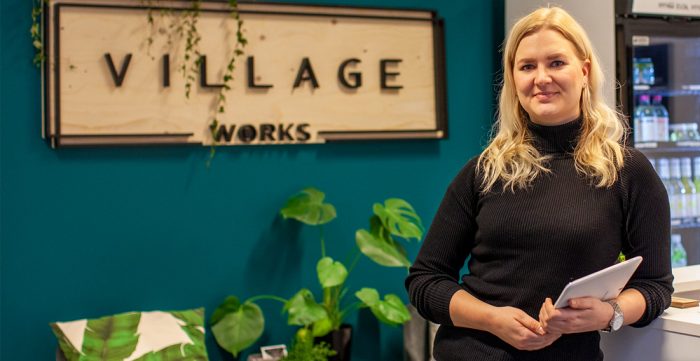 At Village Works, customer satisfaction is a rallying point for the whole organisation. Every encounter pushes the brand a bit further forward and is a component of customer satisfaction.
"One of our values is success which is visible in our daily operations. We want to celebrate our customers' successes and to support them as best as we can. One of the ways we do this is by making new services available – many of which might be out of reach for small businesses, but as a community together we are more. We have had the privilege of being a part of many success stories. Our goal is to become the leading provider of flexible office spaces in the Nordic countries" says Essi Hänninen, the Operations Manager at Village Works.
" LokiTime Key Management has increased our team's performance and modernized our key control process." -Essi Hänninen, Operations Manager
Problem
Village Works previously managed keys manually, using pen and paper. The key issuance forms were filled out, scanned and filed away. Maintaining the information was time consuming and there wasn't a unified database of the key handovers of all the offices. Searching for information was particularly difficult because the files were tied to a certain physical location.
Solution
Village Works started using LokiTime Key Management in all their offices. As a result, the customer service representatives have saved a significant amount of time and there is now a unified process for key handovers throughout the organisation.
"We now have one clear digital process for issuing keys and items. Real-time information is available in digital format for everyone who needs it. With LokiTime, we have been able to keep things under control while expanding our business. If we didn't have a unified system for key management we would be in big trouble!" says Saara Niemi, Community Manager at Village Works.
Utilising new digital services is also a part of the company strategy and it presents a modern image to our customers. "Wow, that was easy!" is a typical user reaction, Saara laughs.
---
Customer benefits:
• Cutting costs in working hours
• Unified information on all the keys and offices in digital format.
• A clear process for issuing keys and managing them.
• Sorting our reclamations is simplified.
• Increased customer satisfaction.
---
For more information, please contact:
Essi Hänninen
Operations Manager , Village Works / Business Center Papula Oy
+358 50 355 2255
essi.hanninen(at)villageworks.com