Mall of Tripla – a pioneer in all areas
With its 250 business premises, Mall of Tripla, which opened in Pasila, Helsinki, in autumn 2019, is the largest shopping centre in Finland and in the Nordic countries. It offers not only comprehensive shopping and restaurant services but also a wide range of new cultural activities and experiences. A new kind of urban centre also requires new tools for property management. Therefore, LokiTime Key Control was a natural choice for Tripla's key control system.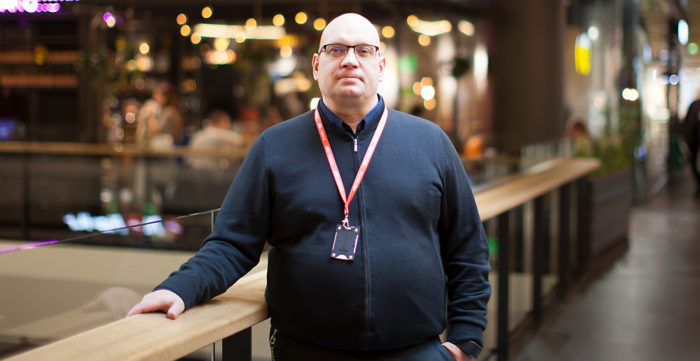 Starting point
Tripla's large size means a large number of tenants and other stakeholders receiving access tags and keys. Already in the construction phase, it was clear that managing thousands of electro-mechanical keys and access tags would be challenging and a smart solution would have to be found with which signing could be done in a controlled manner directly in an electronic system with flawless records.
"We wanted to get rid of all paperwork and find a solution that would also work in the future and not only in the construction phase. In a building with 250 businesses, the risk of lost keys is extremely high and costs can be significant if corrective actions have to be taken," says Sakari Meriläinen, Tripla's property manager.
"I've acted as the property manager for a few sites where I've had to investigate afterwards who has signed for keys. For some reason, the papers were not where they should have been and there was uncertainty over the whereabouts of keys. As a result, some sites had to be rekeyed either partly or completely."
"There cannot be any missing contracts or unclear signatures –
all information must go directly to an electronic system"– Sakari Meriläinen, Property manager / Mall of Tripla
Solution
Mall of Tripla implemented LokiTime Key Control already during the construction phase. This solution made it possible for control to be established over the keys signed for by contractors and suppliers and it was used to create future operating models. With the construction now completed, LokiTime has already been used to sign for nearly ten thousand keys for tenants and other stakeholders during the first year of operations, and its use has been extended to cover other properties in the same block.
"If each of these signatures would require one A4 sheet, the height of the pile of papers after ten years of operations would be almost at the level of the mast on Pasila's transmission tower," Meriläinen says.
The paperless approach has also enabled Tripla to achieve concrete savings in working time and made it easier to handle exceptional situations. Tripla's keys are managed in cooperation by Securitas security services and Property Manager Sakari Meriläinen. With the software, it has been possible to allocate the resources of security guards to security instead of key management and, for example, unauthorised access can now be prevented efficiently. You can immediately check from the system who has received a key and clarify the situation. "With LokiTime, we can tackle exactly these issues. Now we have exact information on the number of keys, where they are and who has signed for keys. Many of my colleagues are in a completely different situation."
Meriläinen says that LokiTime is especially well-suited for managing the keys of extremely large property entities, such as shopping centres. "The usability of the software is good and I definitely recommend it for shopping centres. I also think that LokiTime is an essential tool for key management carried out by manager communities and locksmith companies. All information is stored in a centralised system and you can just click a button to view another customer site."
---
Customer benefits
• Improved customer service and customer experience
• Working time savings
• Getting rid of paper
• Improving the efficiency of processes
• Easier to manage exceptional situtations
• All information in one system
---
For further information, please contact:
Sakari Meriläinen
Property manager / Mall of Tripla
+358 40 700 6357
sakari.merilainen(at)malloftripla.fi