Mall of Tripla – en föregångare på alla områden
Mall of Tripla som öppnade hösten 2019 i Böle i Helsingfors är med sina 250 affärslokaler Finlands och Nordens största köpcentrum. I köpcentret finns affärer och restauranger, men även mycket ny kulturell verksamhet och upplevelseaktiviteter. Ett nytt köpcentrum behöver nya hjälpmedel även för fastighetsförvaltningen. Servicesystemet LokiTime för nyckeladministration var ett naturligt val för Tripla.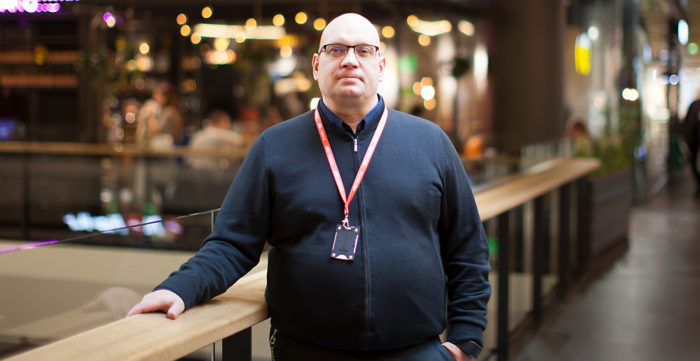 Utgångsläge
Köpcentrets storlek innebär en stor mängd hyresgäster och andra intressentgrupper som alla ska kvittera ut elektroniska identifieringskoder och nycklar. Redan i byggskedet stod det klart att det skulle bli en utmaning att administrera tusentals elektromekaniska nycklar och identifieringskoder. Det behövdes en smart lösning för att sköta kvitteringarna kontrollerat och direkt i ett elektroniskt system med en exakt bokföring.
"Vi ville slippa hantera papper och hitta en lösning som fungerar även framöver, inte bara under byggtiden. Risken för försvunna nycklar i en fastighet med 250 affärer är mycket stor och kostnaderna kan bli betydande, om vi blir tvungna att vidta korrigerande åtgärder", berättar Triplas fastighetschef Sakari Meriläinen.
"Jag har varit fastighetschef för några andra objekt och i efterhand behövt reda ut vilka som har kvitterat ut nycklar. Av någon orsak har pappren inte alltid varit där de borde ha varit och det har därför varit oklart var nycklarna hållit hus. På grund av detta har vi varit tvungna att serielägga låsen i objekten på nytt antingen helt eller delvis."
"Inte ett enda avtal får vara försvunnet eller en enda underskrift oklar – alla uppgifter ska genast föras in i det elektroniska systemet." – Sakari Meriläinen, Fastighetschef / Mall of Tripla
Lösning
Mall of Tripla tog i bruk nyckeladministrationssystemet LokiTime redan i byggskedet. Lösningen hjälpte oss hålla koll på nycklarna som skulle kvitteras ut till entreprenörer och leverantörer och att skapa en modell för den senare användningen. Efter att köpcentret blev klart har många nycklar för hyresgäster och andra intressentgrupper kvitterats med LokiTime – under det första verksamhetsåret redan närmare tio tusen! Användningen av LokiTime har även expanderat till övriga fastigheter i samma kvarter. "Om det skulle krävas ett A4-papper för alla dessa kvitteringar, skulle pappershögen efter tio verksamhetsår vara lika hög som länktornet i Böle", säger Meriläinen.
Papperslösheten har gett Tripla konkreta besparingar i arbetstid och underlättat hanteringen av undantagssituationer. Securitas bevakning ansvar i samarbete med fastighetschefen Sakari Meriläinen för Triplas nyckeladministration. Tack vare systemet har ordningsvakternas resurser kunnat användas till bevakning i stället för nyckeladministration och till exempel situationer som gäller obehörigt tillträde får vi nu effektivt under kontroll. Vi kan omedelbart kontrollera i systemet vem som har fått en nyckel och ta tag i situationen. "Med LokiTime kan vi ta itu med just precis det här. Nu vet vi exakt hur många nycklar det finns, var de är och till vem de har kvitterats. För många av mina kollegor ser läget helt annorlunda ut."
Enligt Meriläinen passar LokiTime särskilt bra för nyckeladministrationen i stora fastighetshelheter såsom köpcentrum. "Programmet är användarvänligt och jag kan absolut rekommendera det för detta ändamål. Jag tror även att LokiTime kan vara ett mycket bra hjälpmedel för nyckeladministrationen i managementbolag och låsföretag. Alla uppgifter finns på ett ställe i ett system och det är enkelt att byta kundobjekt med bara ett klick."
---
Fördelar för kunden
• Förbättring av kundservicen och kundupplevelsen
• Sparad arbetstid
• Slipper pappersarbete
• Effektivare processer
• Lättare att sköta undantagssituationer
• Alla uppgifter i ett system
---
För mer information, kontakta:
Sakari Meriläinen
Fastighetschef / Mall of Tripla
+358 40 700 6357
sakari.merilainen(at)malloftripla.fi